Our Gift to You - Use Code FROSTY20 for 20% off
TOP RATED JEWELRY STORE IN Dickson City, PA.
We specialize in engagement rings, loose diamonds, wedding bands, diamond earrings and more. We have nothing but the highest quality of jewelry designs for any occasion. Visit our jewelry store or shop online our stunning collection of diamond jewelry and jewelry designers.

Family Jewelry Store In Dickson City Since 1928
For almost 100 years, families across the region have turned to us for pieces that celebrate the most important moments of their lives.

We carry extensive collections of jewelry, engagement rings, wedding bands and watches from high-end designers whose timeless designs and impeccable quality will last a lifetime. When you need something even more unique, we offer in-house custom design services for engagement rings, wedding bands, custom jewelry and heirloom pieces.

Whatever the occasion, big or small, we're here for you.
Learn More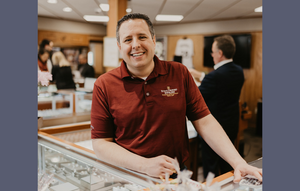 Find the perfect holiday gift with us
Updated Holiday Hours
Whether you plan ahead or stop in at the last minute, we have the perfect gift for you.
Shop our gift guides
Steve Pronko Jewelers is the #1 jeweler in NEPA. Their professional and experienced staff go above & beyond to serve your needs. Great selection of wedding rings, necklaces, earrings, bracelets & watches. And if there is something you can't find they will design it for you.

Jill K.
My experience was great! Nick and Laura made me feel very comfortable and the entire process felt effortless. They were extremely helpful every step of the way. I am happy to enthusiastically recommend Steve Pronko Jewelers!

Jeremy G.